MS-Windows only: Click here to play the online version !
Description
This game is the REBOL port of famous BoxWorld! game. History starts in 1999 when I discovered BoxWorld! for the first time. After two minutes playing, I was really addicted, like all the other guys around me who tried this game. The company productivity dropped a lot that day : all the IT department was busing trying to solve all the 100 BoxWorld's levels (No, I won't give the company's name ;-)). Re-Box! is the REBOL port of this wonderful game.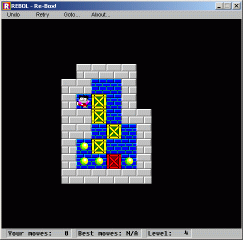 Game features
100 levels to solve !
Play under your favorite platform :




Windows 9x/NT/2000
BeOS 5
Linux
MacOS9
Various Unix platforms (Solaris, HP-UX, Irix,...)
Amiga

Your best scores are saved for each level
Undo last box move : Ctrl-Z or [Undo] menu item
Restart the level : Ctrl-R or [Retry] menu item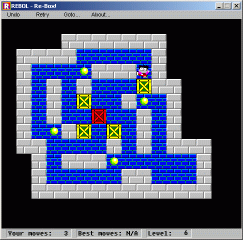 Download & Install
This archive contains the Re-Box! game in source code form. You need to install
REBOL/View
to play with it. Once REBOL/View installed, just double click on the rebox.r file.
Other ressources